Plants grown from seeds are typically heartier and more vigorous than clones, as they produce a sturdier taproot that clones are not able to replicate. The vigor that comes from deep roots can be an advantage when dealing with harsh environmental conditions and pest pressures. The disadvantages of growing seeds are the additional attention required to germinate the seeds, the necessity to eliminate any males before they pollinate the females, and the high variability in growth characteristics that results from their genes.
Cannabis has been cultivated outdoors for thousands of years, but before you go putting a seedling in the ground, it's best to know how the process works and how to make the most of Mother Nature's gifts. You should also have some idea of how to handle those unwanted gifts you'd rather return — pests and weeds.
Planning your garden
Depending on your location, you may need to plan for rain. In most regions, the rainy season is typically aligned with the end of the flowering stage and the start of the harvesting period, but this may not always be the case. Rain can be detrimental to an outdoor flowering crop so being prepared to cover or move plants can help ensure a successful harvest. If it does rain on your plants, make sure to immediately shake off any excess water, as lingering moisture can lead to the formation of mold and nobody likes moldy weed.
Wilting plants and dry soil are a direct sign that plants need water. Droopy leaves along with wet soil are a sign of overwatering. Both are common mistakes and can be avoided with some practice.
How to grow marijuana outdoors
Outdoor cultivators take what Mother Nature gives them and turn it into the best possible harvest. Many cannabis consumers prefer marijuana grown outdoors under the full spectrum of natural sunlight. That unique spectrum creates a greater variance of cannabinoids and terpenes than artificial lighting.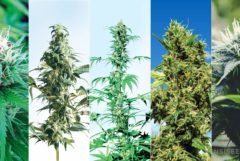 If soil solarization is not possible due to time constraints, it may be possible to sterilize your soil by using steam. Large-scale agricultural operations make use of expensive, specialized equipment, but it is possible to use cheaper household sources of steam such as a pressure cooker to sterilize soil.
The sheet of plastic amplifies the heat and light of the sun and allows the soil to reach high enough temperatures to kill off most undesirable microorganisms. Soil must reach temperatures of 46°C (114°F) for four to six weeks to be fully effective. It should be checked and re-tilled regularly to ensure that temperatures are sufficient and consistent.
To increase pH, agricultural lime is usually added to soil. However, it isn't necessary for cannabis cultivators to purchase sulphur or lime. These are usually available in solution at garden stores. A thorough guide to adjusting pH can be found here.
How to Choose the Best Outdoor Cannabis Strain
In any case, the growing medium is fundamental to the grow itself as well as the final harvest. Having well prepared soil can help a grower mitigate problems throughout the grow. Theoretically, if soil is well nourished, the plant should thrive with little intervention. A healthy plant necessarily starts with great soil, and without the optimum soil for growing cannabis, you will never be able to bring about an optimum harvest.
The smaller the average particle size in soil, the harder it is for water to travel through it. You can think of it like a coffee machine. If you pack the coffee into the wand too tight, it's near impossible for the water to come filtering through. By the same principle, sandy soils have very quick water drainage, while soils with high clay content become waterlogged easily.
On the other hand, digging holes in the ground and planting your young plants straight into the soil allows them to grow without constraint, and will allow roots to access the maximum amount of groundwater. Thus, they will achieve larger sizes and will require less vigilant maintenance, but may be at increased risk of exposure to soil pathogens and even contamination from agricultural run-off, for example.
Related post
Choosing the best soil for cannabis means monitoring soil acidity, texture and pathogens or pests inherent in soil. Making your own soil or purchasing sterile soil gives you full control over the acidity, nutritional content and texture of the soil. At the same time, planting in the ground exposes cannabis plants to the entire living organism that is soil — and this is very difficult to create in a pot.
Soil pH can be adjusted with a pH regulator. This is usually a solution that can be purchased from any gardening store. The most commonly used ingredient to lower pH (make it more acidic) is sulphur. Sulphur reacts with specialized bacteria commonly found in soil to create sulphuric acid, therefore acidifying the soil.