On behalf of their customers, dispensaries are looking for consistent quality and a range of products. So while the opportunity to run a lucrative and stable growing business has increased dramatically, there is more and more pressure for growers to produce a consistently high-quality product in order to turn increased demand into increased dollars.
The Four Stages of Plant Cycle
Check on your crop frequently, approximately every three to seven days. They will become noticeably drier with each check. You'll know your buds are properly cured once they can snap easily in your hands without any signs of stringiness. Any bendiness when twisting slightly will tell you there's water still present and that they're not ready to move to jars yet.
The Drying Process
This technique is usually reserved for growers with a large amount of plant matter and little time to process it. This involves cutting off branches and hanging them whole from drying lines. Once the plants are dry, they are then trimmed and processed. It is more difficult to achieve the neatness of a wet trim as sugar leaves will curl in toward the buds while drying. The agitation of handling a dried bud during trimming can also result in the loss of potent resin crystals.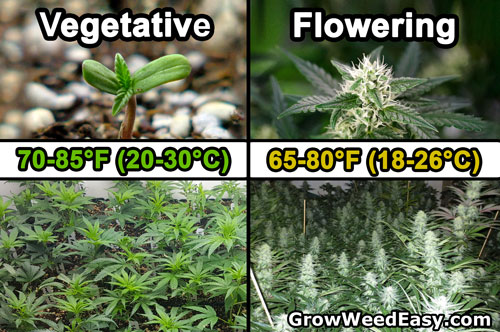 Generally, cannabis plants prefer temperatures in the 70-85 °F (20-30 °C) range during the day when lights are on. When grow lights are off (their "night"), cannabis plants are happy with slightly cooler temps.
7 Essential Concepts About Temperature Control
Preference: Comfortable Room Temperature or Slightly Warmer 70-85°F (20-30°C) – Avoid very low humidity
Temperature & Humidity Adjustment Cheat Sheet
Too Hot: What to Do