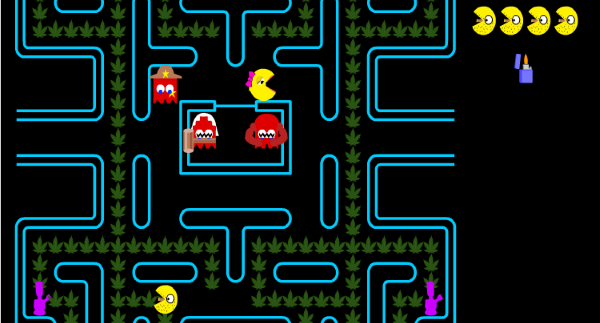 Stoned Memory mirrors the classic, but this is a true weed game as it actually tests your short term memory. Make a wrong guess? Gotta smoke some more. Good luck with that. This online marijuana game is for 2 players but can be adapted to 4 when played in teams, as Team 1 and Team 2 have completely different sets of cards. Grab your bong and get ready to test your memory in this reefer-remake of the classic kid's game.
Stoned Hangman tests your ability to guess a lame marijuana-related phrase while getting progressively higher if you choose the wrong letter. In this memory-based weed game, each player takes turns guessing letters to fill in a blank phrase or group of words. You'll be given a clue, but they're not always easy so expect that you might wind up hanging from a noose more often than not…
Even if you're not a developer or software engineer, if you have ideas for new weed games, please let us know. This includes ideas for online marijuana games as well as physical weed games like board games or marijuana card games.
Solve Word Puzzles & Try Not to Die in STONED HANGMAN
In Crop Defender online marijuana game, you must defend your cannabis crops from multiple attackers and threats. This includes cops, thieves, fungus, deer, insects and drought. To make this pot game even more difficult, you must use a different weapon to destroy each type of enemy. From rifles and crossbows to poison and an industrial bong, you must choose each weapon wisely in a race against time.
Stoned Kings is a weed game that plays on the traditional card version of the drinking game, but you don't actually need the cards. You just need a lot of weed. This cannabis game is simple; each player takes turns selecting a card and following the corresponding instructions. If you can't handle this easy game, then you're probably too stoned already.
Avoid Your Enemies & Eat a Ton of Weed in STONED PACMAN
In the year 2015, radical right wing republicans in the US government develop and unleash armies of genetically engineered Super Mites designed to eradicate marijuana crops worldwide. In this weed game you must defend these cannabis crops by remotely controlling nano-ships armed with insecticide cannons. But because each mite undergoes mitosis when damaged, every mite killed results in smaller mites branching off and continuing their attack on you. Special effects include the ability to warp to other parts of the field, temporary invincibility, and the ability to acquire additional ships in the event yours is destroyed by a Mighty Mite.
Aliens are invading and the only thing between them and you is a field of marijuana plants. You must fire flaming arrows at the cannabis plants near the aliens until the become too high to advance on your position and are rescued by their ever-present mother ships. Haze Invasion is a 3D "forever" marijuana game that only gets more intense the longer you survive. Special weapons include strength and speed power-ups, as well as the ability to summon a flaming asteroid strike.
Grow a cannabis empire. Your pot-ential is limitless.
Hey Bud, we appreciate all feedback from our players, and we do take it into account when planning future changes for Hempire. However, not all ideas, as great as they are, are viable for the future of our game.
When writing into Support the first thing they do is to triage the issues. The troubleshooting can seem a bit mundane for players with more tech experience, but we do our best to make sure everyone gets the assistance they need as quickly as we can. Sometimes the problem is not clear from our end, or it requires further help from our tech team, so all I can say is we appreciate your patience and understanding while we try to resolve issues.
Ratings and Reviews
Join us online: fb.me/hempiregame | Instagram & Twitter @hempiregame | www.hempiregame.com
Compete Against Your Friends
•Join the Hempire Cup and compete against other players
•Create an enterprise, invite your friends to chat and play
•Shoot up leaderboards with your customized strains
•Fill orders and ship products at the Train Depot
Developer Response ,
Make Money & Generate Profit
•Manage the dispensary and sell your hemp products
•Supply your exclusive clientele or fill orders at Weed on Wheels
•Grow net worth, invest your earnings in local businesses and real estate
•Renovate buildings, fix the streets, build your cannabis empire