The average indoor cannabis grow takes 3-4 months from seed to harvest. The full range is 2-6 months and depends on the strain and desired size of plants.
Long Anwer:
Counter-clockwise from top left: Alaskan Purple Auto, White Widow Max Auto, Candy Kush Auto, Pink Kush CBD 30:1 (short purple plant), Zkittlez Auto, Gelato Auto
Important Milestones in the Marijuana Plant's Life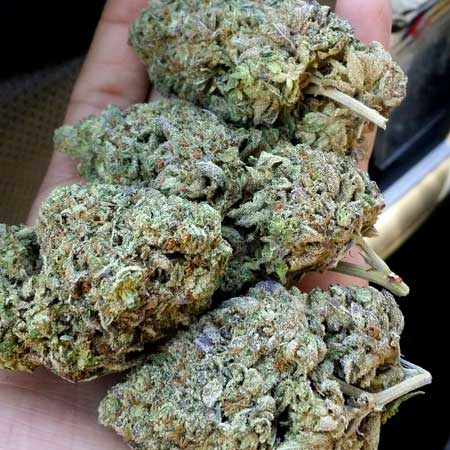 Get equipment: 0 days – 2 weeks
This includes purchasing your equipment and/or waiting for it to show up in the mail. This goes much quicker if you buy everything locally, for example at a hydroponics shop. Once you have your marijuana growing supplies, you'll need to setup your growing area and equipment. A standard setup should take an afternoon at most. Depending on how you purchase your equipment and how quickly you setup, you could be ready the same day or in two weeks (after factoring in shipping time).
Some people put their seedlings or clones right into the flowering stage if they want to harvest quickly though this makes for extremely small plants. For example, super-stealth growers who are growing in small hidden spaces – like out of a computer case – would want to put their seedlings into flowering nearly right away to keep their plants as small as possible. It's also important to remember that container size and grow lights make a big difference. Small containers constrain the roots and keep plants from getting as big as they could, and small lights prevent buds from fattening up as much as they could.
Before You Start Growing Weed
These cannabis plants were vegetated for about 9 weeks before being flipped, in the exact same setup as above, and produced over 10 ounces each. Besides an extra week of veg, the biggest difference between this grow and the one above was simply the strains.
Time Needed to Grow Weed, From Seedling to Harvest
The Average Indoor Cannabis Grow Takes 3-5 Months