You want to get an auto-flowering strain. These cannabis plants automatically start making buds after about a month from germination, and are ready to harvest by the time they're 2 or 3 months old.
Counter-clockwise from top left: Alaskan Purple Auto, White Widow Max Auto, Candy Kush Auto, Pink Kush CBD 30:1 (short purple plant), Zkittlez Auto, Gelato Auto
Long Anwer:
These factors have the greatest impact on total time from seed to harvest:
Depending on how you set up your grow, it can take anywhere from 2 months to 6 months or more to grow a marijuana plant from a seedling to the point where the plant is ready to harvest. Some methods, such as growing hydroponically indoors, give your flexibility to get a harvested plant in as little as 2-3 months. Growing outdoors generally takes longer than growing indoors and is more dependent on when you plant your seeds and how long your growing season is.
Auto-flowering plants tend to stay small since they go from seed to harvest in under 3 months. These auto-flowering plants produced about 7 ounces.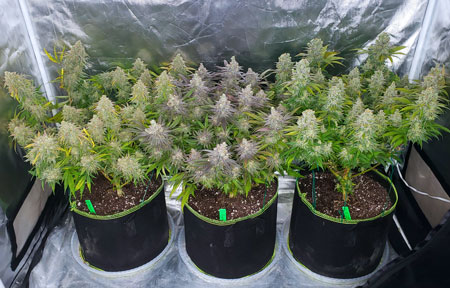 Additionally, curing gets rid of any 'cut grass' smell, harsh taste and other undesirable traits of some freshly dried buds. Over time with proper curing, those traits will be replaced by the 'real' smell and potency profile of your buds.
Get equipment: 0 days – 2 weeks
This includes purchasing your equipment and/or waiting for it to show up in the mail. This goes much quicker if you buy everything locally, for example at a hydroponics shop. Once you have your marijuana growing supplies, you'll need to setup your growing area and equipment. A standard setup should take an afternoon at most. Depending on how you purchase your equipment and how quickly you setup, you could be ready the same day or in two weeks (after factoring in shipping time).
This article will give you the total time breakdown, so you can plan out the details of your grow in order to achieve the harvest times you desire:
If you haven't started growing your own weed yet, today is the day!
Time Needed to Grow Weed, From Seedling to Harvest
A good rule of thumb…
Average Time to Grow (and Be Ready to Use) Your Own Weed:
3 – 5 months
These vegetating plants are about 4 weeks old from germination
Before You Start Growing Weed
Learn my fail-proof method to germinate your seeds in soil/coco or hydro.
Additionally, for at least the first time you grow, you also need to consider the time needed to get your equipment and seeds/clones.