Plant a seed or two in each pot, making sure to keep the pots moist. Once the plants sprout, you can transplant them in their Jiffy Pot to a container or to a raised bed or garden plot.
The paper towel method is a favorite for many home growers. Simply take two pieces of paper towel. Moisten them with water. Then place your pot seeds in between the two layers of moist paper towels.
Put a plate or other object under the bottom towel to prevent moisture damage and another over the top towel to keep the seeds in a dark space. When you see the white taproot emerge from your seeds, they will be ready to transplant. Make sure to plant them taproot down.
Lots of folks like this simple, direct method. Simply soak your seeds overnight in a glass of lukewarm water. The next day, plant them directly in the ground, containers or wherever you plan to grow them.
Jiffy Pots
Choose between indica and sativa according to your preferences for cannabis effects or the market's demand. You will also have dozens of strains to choose from.
Germination simply means getting a seed to sprout a taproot, which will serve as its main root into the soil as it grows. For the best results, start with the best seeds you can afford to buy online or get from friends.
This is an even more natural method than water soaking. Just plant your seeds 1/2 inch to one inch deep in soil or another medium that has been moistened. A key benefit of this technique is that your seedlings won't be subject to transplant shock. Because they have grown up in their surroundings, they will have acclimated to them.
Paper Towels
Whether you are growing pot for personal use or for income, it is crucial to give your plants the best start in life possible. Just as with animals and children, healthy beginnings will encourage rapid, strong growth. You have two basic options for growing your own cannabis: start with seeds or use clones.
There are five basic germination methods that are popular. With any of these methods, remember that seeds will need adequate warmth, moisture, and air to germinate properly. Generally, cannabis seeds like a temperature of 70° F to 90° F for sprouting.
Autoflowers don't need lots of nutrients because they're small and don't spend much time in the vegetative cycle. They won't need as much veg nutrients—such as nitrogen—but will need more bloom nutrients.
Autoflowering seeds are also popular with beginning growers. They are easy to grow because you don't have to worry about light cycles and how much light a plant receives.
Training plants
Cannabis used for hemp production has been selected for other traits, including a low THC content, so as to comply with the 2018 Farm Bill. Consequently, many varieties of hemp produce significant quantities of CBD.
Germinating cannabis seeds doesn't always go as planned. Some seeds will be duds. Others will be slow and take longer to sprout. But some will pop quickly and grow rapidly.
Pros and cons of growing autoflower
Some seeds germinate very rapidly while others can take a while, but generally, seeds should germinate in 3-10 days. If it's been two weeks and a seed hasn't sprouted, it's probably a dud and won't sprout.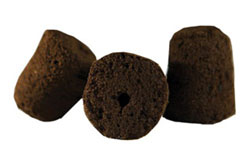 Rapid Rooters are easy to work with – you just stick your cannabis seed in the Rapid Rooter (pointy side down), keep your seed warm and slightly moist, and let the Rapid Rooter do its magic.
Germination Method 2: Plant marijuana seeds directly in growing medium
Pros of Rapid Rooters
Germination Method 3: Germination Station
Your cannabis seedlings and clones will definitely survive in a bigger container; they just won't grow as fast for the first few days or weeks because they aren't getting as much oxygen.