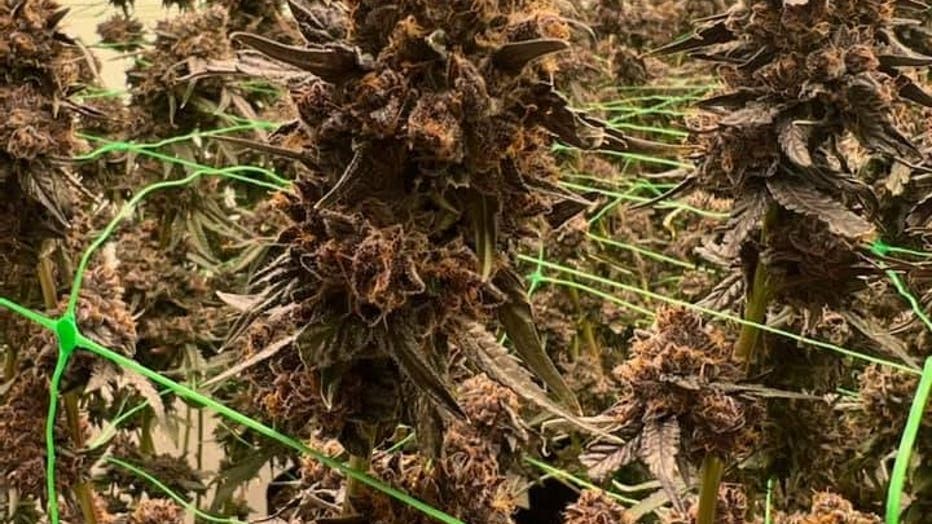 Photo: Alameda County Sheriff's Office.
Besides the plants and the cash, detectives seized various infrastructure items used to grow the plants. This includes specialized lighting, power generators to run the lights, and other miscellaneous supplies commonly used to grow marijuana.
The bust marks the largest-ever illegal growing operation in the Bay Area, and among the largest ever in the state, Sgt. Ray Kelly said.
$10M cash, 500K marijuana plants seized in Bay Area's largest-ever bust
Photo: Alameda County Sheriff's Office.
There were also a "tremendous amount" of weapons seized, at least a dozen. These included handguns, rifles, and shotguns. 
Alameda County Sheriff's Sgt. Ray Kelly says the multi-location operation is incredibly sophisticated, fully automated and very well done. "They're pumping CO2 in to the plants to make the plants grow bigger and stronger. And according to our investigators, this is some of the best, high quality marijuana that they've ever seen."
SAN LEANDRO, Calif. – Alameda County sheriff's detectives say an 18-month investigation has resulted in the seizure of upwards of $10 million in cash, up to 500,000 marijuana plants, 6 tons of processed marijuana valued at $42 million, and a cache of weapons. 
Photo: Alameda County Sheriff's Office.
Following the seizure, Palmerah police proceeded to burn the cash crop. Residents of the town of Tangerang reportedly suffered from dizziness and a buzzed feeling after inhaling the potent smoke.
Colbin, Chile, is home to the largest legal marijuana field in Latin America. Opened in 2016, the farm, run by the Daya Foundation, is expecting its first harvest to bring in 1.5 metric tons of marijuana.
Back in 2011, the Mexican army uncovered what they called, at the time, the largest marijuana plantation in the nation. The Baja California farm, spanning 300 acres, is roughly 168 times larger than the soccer field in Mexico City's famous Azteca Stadium. The seized marijuana was valued at $153 million.
Largest illegal operation, Mexico
And that means plants. Lots and lots and lots and lots of plants. whether they're technically legal or not.
The Kent-based GW Pharmaceuticals has two greenhouses holding 30,000 marijuana plants. Since it opened in 1998, GW has produced more than two million plants. The cannabis is used for research on a medicinal drug, Sativex, that helps those suffering from multiple sclerosis.
Ganja Ma Gardens, California
Daya Foundation President Ana Maria Gazmuri has said the farm has nearly 7,000 plants. And although the production, sale and distribution of cannabis is illegal in Chile, authorities have allowed patients to use pot for certain chronic conditions.
Pictured is a Northern California GFarmaLabs operation.