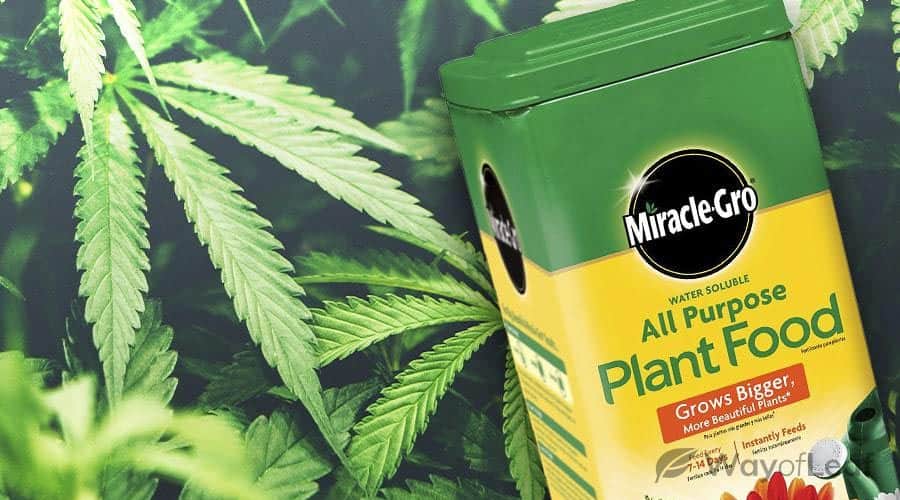 When choosing the right fertilizer for your marijuana plant, do a little research online and find a more suitable one, such as the ones we mentioned above. Keep away from MiracleGro!
You can minimize the use of fertilizers in marijuana cultivation to a point by picking breeds with strong genetics and utilizing as perfect a growing environment as possible. Despite this, you will most likely need some fertilizer at some point, especially when you are just starting out.
When choosing your fertilizer, it is essential to avoid extended-release options and use different fertilizers for different stages. One option is to make your own. Do a little research online to find out what balance of nutrients your weed needs at each stage and then make your own fertilizer uniquely tailored to this. A lot of experienced growers prefer this as it allows them to take further control of the growing process and gives more of a sense of accomplishment.
MiracleGro has an extended-release of nutrients. This means it will continue to release nitrogen for up to six months, leading to deficiencies, or even burning your marijuana plant in the flowering stage, which would reduce your yield dramatically.
Final Thoughts on Using MiracleGro When Growing Marijuana
Perhaps surprisingly, MiracleGro is not a marijuana farmer's friend. It is a common mistake many rookies make as the fertilizer is so ubiquitous in the world of plant growing. You can utilize MiracleGro successfully, but it is challenging to get right, and you risk ruining your grow for benefits that are easily gained from using a better alternative.
MiracleGro is used to help houseplants and gardens by providing additional nutrients that soil naturally loses over time. In doing so, MiracleGro boosts the growth rate of plants as it provides the material needed in the production of new cell structures.
The fertilizer contains mainly nitrogen, potassium, and phosphorus, and there are different options with different combinations of the three available.
Can MiracleGro Help Growing Marijuana?
One of the greatest pleasures in the world of marijuana is growing your own plant. Starting with just a bunch of seed or a clipping and nurturing it right through to the flowering stage gives a joy that can't quite be replicated any other way. The resulting crops most definitely smell and taste that little bit better as a result of your hard work. Who knows, perhaps they even get you a little higher, too.
Homegrown CannabisCo are the masters when it comes to seeds. Offering a massive variety of cannabis seeds that are well categorized, not only does this company create a resource for superb quality options including feminized seeds, it also provides extensive growing information for those looking for some support along their journey.
However, I have plants in MG moisture control soil, and it is doing far better than the MG OC.
i am currently using MGOC and am far disappointed. My seedlings did not do so well in it, and I also used it on some of my larger plants and received below average results. My regular backyard soil is doing better. I am assuming that it's simply a nutrient issue.
I've recently been in discussions about using BLACK soils from now on because the results are phenomenal according to my research.