It's crucial to have a good understanding of the climate in the area you're going to grow. Cannabis is highly adaptable to various conditions, but it is susceptible in extreme weather.
Choosing the best outdoor cannabis grow site
Heavy clay soils drain slowly and don't hold oxygen well, so they will need to be heavily amended. A few weeks before you plant, dig large holes where you'll be placing your weed plants and mix in big amounts of compost, manure, worm castings, or other decomposed organic matter. This will provide aeration and drainage, as well as nutrients for the plants.
Sandy soils
Most potting soils used in gardening are loam soils. If you've ever worked with potting soil, you'll know that its composition is rich and diverse, and it looks dark and hearty. Beyond texture and color, the soil should smell rich and alive.
Keep this info in mind as you embark on your cannabis-growing adventure. The smallest adjustments can make all the difference — planting a week earlier, a week later, watering less, watering more, etc.
Outdoor cultivators take what Mother Nature gives them and turn it into the best possible harvest. Many cannabis consumers prefer marijuana grown outdoors under the full spectrum of natural sunlight. That unique spectrum creates a greater variance of cannabinoids and terpenes than artificial lighting.
To grow cannabis outdoors, the bare minimum required is basic gardening tools, soil, water, and a spot in your backyard that receives ample sunlight.
Whether using seeds or clones, many cultivators start growing their plants indoors to ensure they are not exposed to damaging weather conditions as they develop their initial root system. The plants can be transitioned outdoors when the weather and light conditions are ideal. Extending the indoor vegetative growth period can help increase yields and allow growers time to select the best plants to be moved outdoors.
Greenhouse basics
Determining the optimum location is another important factor that can affect the yield and quality of your plants. Cultivators in the Northern Hemisphere should attempt to place their plants in an area with southern exposure to ensure their plants are getting the most available sunlight. The opposite is true for the Southern Hemisphere.
Greenhouses can be a great middle ground between the complexities of an indoor setup and the uncertainty of growing outdoors. They provide ample protection from the elements and use far fewer resources than an indoor grow. Greenhouses can be more costly than an outdoor garden and require more planning, but they also allow you to extend the growing season considerably.
Daytime temperatures between 75 and 85 degrees Fahrenheit (23.9 to 25.4 degrees Celsius) are ideal for cannabis, while temperatures above 88 degrees Fahrenheit (31.1 degrees Celsius) or below 60 degrees Fahrenheit (15.6 degrees Celsius) can delay growth. Cannabis is considered heat-tolerant, but sustained highs and extreme lows will usually lead to complications that could eventually kill your plants.
How to grow marijuana outdoors
Even if it is legal to grow cannabis outdoors where you live, you should still take some precautions to hide the plants from public view. And it's often required by law. You can grow your cannabis plants among other plants in your garden to hide them in plain sight. Cannabis can easily grow taller than your average fence, though. Training techniques can help keep your plants shorter. The fewer people who know you are growing cannabis, the better. The ideal situation is to have your grow tucked away on a piece of land where your plants can truly flourish away from prying eyes and nosy neighbors.
Plan to put plants in the ground based on the temperature, season, and light where you live so your cannabis plants have time to finish flowering before cold, rainy weather sets in.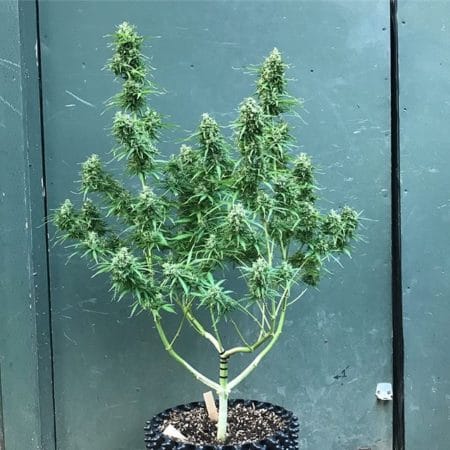 After 20 years of being around black "nursery pots", airpots have become my number one choice. Better root growth, better access to air, massive root terminals…. day and night to what I was accustomed to. Grow bags can retain salts and pests if not dealt with properly between grows. My access to sun changes thru the season so I must be able to move my ladies as needed.
How to Start Growing Cannabis Outdoors
Root Riot Plugs
What you need to get started growing outdoors:
Watch for bugs or nutrient deficiencies and react quickly to problems