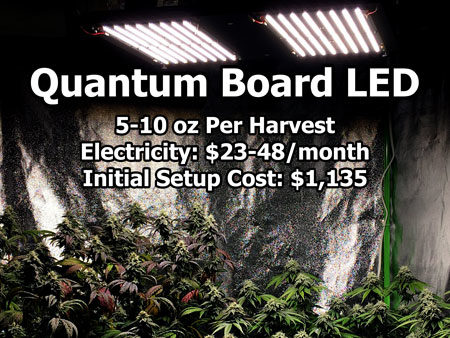 Average Electricity Cost: $10-20/month
This page will lead you to some setup shopping lists for a handful of the most popular styles of growing cannabis. You can use the information below to help decide which type of lighting you want to use if you don't already know. The type of lighting you use will steer you towards some guides that will show you everything that's needed to get started growing potent homegrown cannabis. You'll get the initial setup cost, the cost to reach your first harvest (the highest cost), and the cost of subsequent harvests (much cheaper after the first).
CFL Grow Lights
Average Yield: 5-10 oz Per Harvest
Examples of Common Cannabis Growing Setups
Average Electricity Cost: $21/month
The Standard Grow offers a complete package for growers who wish to maintain a perpetual cultivation operation year-round. It covers all of the essentials in housing, lighting, automation, and filtration for a standard home grow.
No matter what your legal plant limit is, this tent should be able to handle it. At 80" for the main grow chamber, height is not a problem, and just about any cultivar can be propagated successfully under this build. With a 630w 3100k CMH fixture, this room can be used for both vegetative and flowering stages.
In this indoor grow setup, 2 to 4 cannabis plants are recommended. You can squeeze in 6 plants if you grow small auto-flowering varieties and/or vegetate the plants for less time.
Build notes:
The "Standard Grow" is designed to be a fully comprehensive cannabis cultivation and propagation system, offering an all-inclusive perpetual grow space packed into a 4×5' build. For just under $1,000, you get a 3-chambered, 3-light tent with a full air filtration system, automation and metering included.
With the tent height maxing out at 48", plants grown in this space should not exceed 24" in height and we recommend using dwarf, indica, and auto-flowering varieties for best results.
Standard cannabis grow setup: $1,000
Note: Product prices below may fluctuate slightly over time.
The Micro Grow is a value-driven package designed to provide all of the essentials for a single tent grow. More advanced than the Nano Grow, it's a complete system that can handle just about any cannabis growing style.